Never misplace or duplicate a document again
iChannel by IRIS enables businesses to operate more efficiently, making sure you maximize your work hours. See the difference that having the document you need when you need it every time you work with a client can make for your firm.
What's included?
Secure Client Portals

iChannel provides a portal integrated into the DMS. This allows for the quick sharing of documents with clients and allows clients to send you documents added directly to their client file area. iChannel client portal also allows for the creation of a request list, announcements to clients, and multiple levels of security.

Security

iChannel CRM security can be applied when firms need to restrict access to some or all users to help protect your clients' information. It can be as simple or as complex as you need for multiple users and user groups.

Workflow Management

Retrieve and monitor the progress of every workflow and deadline instantaneously. In one screen, you can view all of your team projects to manage your team and ensure that every deadline is met.

Reporting

iChannel has built-in reports to meet clients' needs, including user activity and workflow reporting. Reports can be generated automatically daily, weekly, or on whichever schedule you need.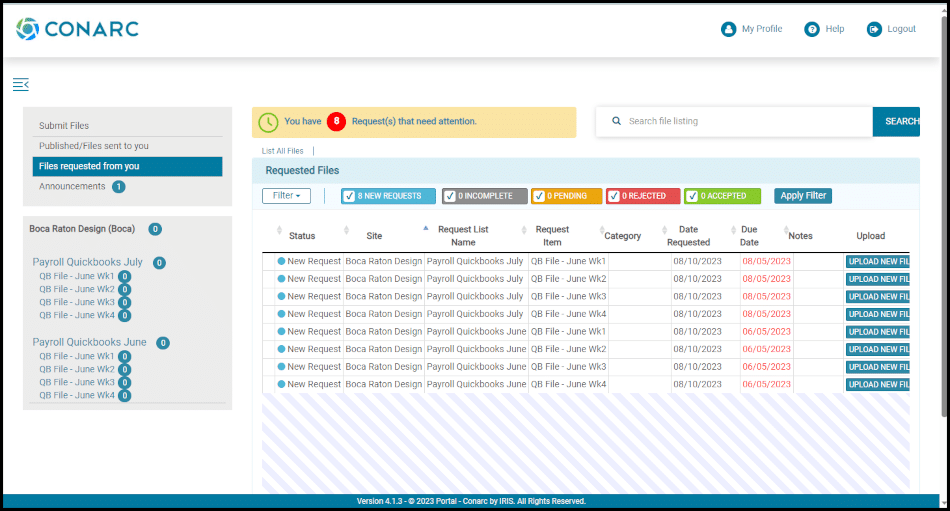 Why choose us?
iChannel by IRIS combines essential workflows into a configurable solution so you can spend less time switching between applications and more time focused on billable work.
Automatic Routing

Auto-routing facilitates a truly effortless document management solution. iChannel by IRIS will monitor your folders for new documents and perform actions like renaming, splitting into multiple PDFs, publishing to client portals, adding to workflows, or emailing to your clients when they are uploaded to a folder.

CRM

Stop spending time on data entry and instead focus on building rapport with iChannel's CRM solution. iChannel keeps track of all changes and updates so you can provide the best experience for your clients and prospects.

Request Lists

Remove the back and forth with your clients to get the necessary documents. Document gathering is made easy with iChannel by IRIS. You can request documents via email or a secure client portal. You can save even more time by creating a request list template you can assign to any client. 
iChannel User Conference Highlights

Is iChannel right for you?

Firm Saves over $500K/year with iChannel

Critical Tools for Success

iChannel Makes a Great Partner

Network Administrator Talks About iChannel

Integrate QuickBooks, Caseware & More

Steven Kurinsky of DeLeon & Stang

iChannel Grows with Your Business
Blog
Streamline your workflow
Document management helps your accounting firm do more with your time. Learn more about document management and solutions from IRIS.
Ready to speak to one of our experts?